Joining a Reiki Association is an important step for any Reiki Practitioner – it usually means you are serious about starting your Reiki business or want to connect with more people who share you passion for Reiki. So what do you need to know when finding the best Reiki Association for you?
"…As we stand on the shoulders of the Reiki Masters that have gone before us, we act as important custodians of Usui Reiki and Mikao Usui's incredible legacy. As such, we have the privilege and responsibility to help continue to spread this incredible healing modality and way of life through our daily Reiki practice." – Garry Malone, Founder of the Reiki Healing Association.
What is a Reiki Association?
A Reiki Association is a professional community of Reiki Practitioners connected by their desire to share Reiki with the world and grow their own Reiki Practice. A Reiki Association will often have its own code of ethics and professional standard, which members will agree to follow to maintain a high level of professionalism as they practice Reiki with clients. Most holistic health industries have these professional networks to help certified and qualified practitioners as they finish their training and begin working with the public. An Association helps you stay in the know with industry trends and news, it helps you access the right continued learning opportunities and should inspire you and support you in your Reiki practice. It's always nice to feel a part of something and feel you can reach out to like-minded people in a similar position to you should you need some help and support.
An 'Association' is defined as "a group of people organised for a joint purpose." Reiki associations are categorised by a group of Reiki Professionals coming together for the purpose to practising and teaching Reiki. There is a shared interest, passion and profession which all members can associate with.
 Pin this for later! What you need to know before joining a Reiki Association
Benefits of joining a Reiki Association?
Once you have completed your Reiki training and you are now either a Certified Reiki Practitioner or a Certified Reiki Master Teacher; you will need to switch your focus towards setting up your own Reiki Practice and/or Reiki Training School if you are planning on practicing and teaching Reiki professionally.
Joining a Reiki Association is a good way to add authority and credibility to your own new Reiki business venture and can be a great way to meet and network with other Reiki Practitioners and to acquire the necessary small business skills and training that you will need to establish, develop and build a thriving successful Reiki Practice and/or Reiki Training School.
There is no legal requirement for you to join a Reiki Association to setup and begin practicing and teaching Reiki. However, there are several tangible and intangible benefits that can be gained from becoming part of a like-minded community such as the Reiki Healing Association. Including:
The ability to network with Reiki peers

The authority that comes from being part of a well-known and trusted association
Helpful resources for your reiki business
Reiki events
Reiki Magazines and articles to stay in the know
Business tips and training
Access to insurance discounts and referrals
The opportunity to connect and learn from a community of like-minded practitioners
Here are 12 things to consider carefully before joining a Reiki Association
Different Reiki Associations will offer you different benefits, so it's important for you to consider the kind of support, community and resources you want when you chose your Reiki association.

1. Do you want to practice professionally?
Some reiki associations have a purely professional focus, whilst others will welcome Reiki students and individuals interested in Reiki. Get a feel for the community you are going to be a part of and the conversations they will be having, so you know you are joining a like-minded tribe who understand your goals and can support you on your personal and professional journey. 
2. Global vs Local
Some reiki associations will only allow members from a certain geographic area like the UK or USA – whilst others will have a global membership. If you are looking to work distantly with Reiki, serving clients across the world, and you want to connect with a broader network of practitioners,  we would recommend you join a global association to get advice from practitioners across the globe. Or perhaps be a part of multiple associations to cover your local market and then your global interests. 
2. Lineage Inclusivity
Although Usui Reiki remains the most common form of Reiki, there are many other forms of Reiki that have sprung up over the years. You want to make sure that the association you join accepts your Reiki lineage and training background.
3. Background Inclusivity
Since the pandemic, online reiki training has become more and more popular but for many years most reiki associations were hesitant to accept online qualifications – so make sure your check that the association you are joining accepts your qualifications and certifications.
4. Directory
If you want to start advertising your Reiki services a great tool that many reiki associations provide is a professional reiki directory. You can list yourself and your business on the directory so potentials clients can find you. Take a look to see if the association has a directory and have a look at the members who are already part of the organisation to get a feel of the community. Are there experts from different fields you could learn from, are there members from your country, are the members prominently featured? 
5. Community
You want to be part of an association that respects and care about its members and has a welcoming and uplifting community. Although you will not get the full member experience until you join, look for signs that the members are happy and enjoying the association and its benefits. Check out the social medial channels and the conversations taking place. Do they have a magazine or blog you can read with perspectives from members? Use this research to get the vibe for the group you are joining – ask yourself 'is this something I want to be a part of?' or 'could I see myself being a part of this community?'
6. Happy Members
 Reading reviews from existing members is a great way to get an idea of the benefits of being part of a certain reiki association. Perhaps you know someone who is already a member, and you can reach out to them to find out more about their experiences with their association membership.  No-one want to be unhappy or not enjoy the community they have joined. You want to feel valued, respected, inspired and excited to be a member.  
7. Code of Ethics
This is an important one. You want to join an association that shares your professional and personal ethical code. You want to feel like you are working alongside members who operate and practice Reiki with the same moral compass and professional standards. You also want your customers and clients to know that you uphold these guidelines by association. So check out the organisations code of ethics to get an idea of the example their reiki practitioners want to live by. 
8. Brand values and vision
When you associate yourself with a reiki organisation, you want to feel inspired and empowered by their values and vision. What kind of change do they want to make in the world – are they really helping practitioners, are they inclusive, are they down-to-earth, are they current and relevant and innovative? Is this a brand you are happy to align yourself with? Taking a look at their vision statement is a great way to get a feel of the impact they want to have and how they can help you along the way as they work towards this vision. 
9. Reputation
As well as reading reviews to find out more about the membership you may want to consider how reputable the organisation is. Who was it founded by? What does the team look like? How long have the been around? Knowing you are joining an established reiki association with a legacy of helping its members, is going to help give you peace of mind! 
9. Insurance discounts
Professional insurance can be confusing but getting insurance for your Reiki Business is important. So you want to find an association that can recommend well-known and trusted Insurance providers across the globe to help you protect your business. Many associations provide exclusive discounts and members-rates! 
10. Business Tools and Resources 
 An the end of the day you want to join a reiki association that actually helps you as a reiki professional, do make sure you read the list of benefits that each association offers. Are there any stand-out front-runners who really provide you will tools and training to help you set up and promote your reiki business. 
11. Pricing
Price is always going to be an important factor when making any decision. You want to find an association that is accessible and fits your budget so you can focus on building you business. So check out and compare your options. Most associations charge an annual recurring fee, so you will have to keep paying every year. See what kind of benefits you get every time you pay for a new year? At the Reiki Healing Association we decided to disrupt the way Reiki associations work, and only charge a one off fee for joining, because we want to make our membership accessible.   
About the Reiki Healing Association 
The Reiki Healing Association, also known as fondly by its members as the RHA, was established in 2015 by well-respected Reiki Master Teacher Garry Malone – the Author of the best-selling book series ' The Essence of Reiki' and the founder of the Reiki Store – one of the very first online Reiki training schools.
The Reiki Healing Association was established to provide a safe and trusted support network for Reiki Professionals. Many Reiki Associations at the time had a long list of requirements to let members access insurance and their members benefits, and they excluded those who had studied online and received their Reiki attunements distantly (even though one of the core beliefs of Reiki Level 2 is that Reiki can be sent across time and space).
Garry Malone didn't think it was right to block Reiki Professionals from the business tools and insurance they needed to get started. So he founded the RHA to create an inclusive International Reiki Association to give all Reiki Practitioners the chance to put their training into practice.
The RHA was the first Reiki Association to accept members with online training backgrounds and has remained open to all Reiki lineages since it's inception. As well as being known for its inclusive history, the Reiki Healing Association is the only association to provide 'Done-for-You' Reiki business tools, so members can quickly start and scale the reiki business of their dreams. It is run by an experienced team of successful Reiki Business mentors and coaches whose one shared goal is to help members build a successful and fulfilling career within Reiki. It's proud to be the most modern and exciting Reiki Association out there, as it is always evolving to serve its growing membership. 
The RHA has been supporting and inspiring the Reiki community for nearly a decade, setting the highest professional and ethical standards in Reiki Practice.
Find Our more about the RHA here.
Reiki Healing Association Reviews 
"So excited to be a part of the RHA. I'm really looking forward to learning from this lovely community of the light, with all tips and information here. I've just joined the Facebook group and there are so many great conversations happening, like how much should I charge, how many sessions should I run a day, and how are you coping with Covid regulations. Thank you for giving me this space to network and grow and talk to people like me. I feel blessed." – Joe CM

"I can't believe how beautiful all the Done For You Resources are. Thank your RHA, I'm so glad my friend recommended I join.  The price of membership is so worth it – even just to get access to the annual License to use the Manuals in your classes. This is going to save me so much time and my students have been asking about this. It's just nice to think that I can reach other to other Practitioners if I'm ever feeling a bit stuck (and I don't want to spend hours searching online for advice!) " -Wynne Elleson

"I've been a member of the RHA for 6 years now and I am so happy I joined. I have the membership certificate framed on my wall and love looking at it in my Reiki Studio. I recommend all my own students to the RHA. Thank you for all you do for this community." – Briany Thornley

"Thank you for providing us with Universal Life Magazine! There are still several articles I haven't read, although I've 'thumbed' through all the 'pages'. I'm pleasantly surprised by your grounded approach that has avoided fluff and hype. What that means to me is I can relate to the magazine's contents. Keep up the extraordinarily wonderful work you do. THANK YOU!" – Lily Clair

"I've been a Reiki Master since 2001 and am blessed to be a member of this amazing group of lightworkers!" – Alissa Gregorius

"So thrilled to have found this wonderful community. Thank you " – Sarah Jane

"I'm very happy to belong to this group and share something as wonderful as reiki. I have practiced reiki since 7 years ago and master since 3 years. Just love it." – Pau LZ

"So thankful to become part of this community. I'm new to the practice of reiki. Everyone has been very welcoming, its much appreciated." – 

Michael Jeanne Knutson
Finding the best Reiki Association for you 
Armed with the 12 points above; do the research and due diligence, so you can first make up your mind if joining a Reiki Association is the right business decision for you and secondly, based on your own personal future Reiki Business goals and plans, if you do decide to join a Reiki Association you can then choose intuitively the Reiki Association that resonates with you and your Reiki Practice and/or Reiki Training School.

Whatever you decide to do in the future, we wish you great success and happiness in your future Reiki Practice.
Reiki Healing Association Members share their favourite Reiki Memories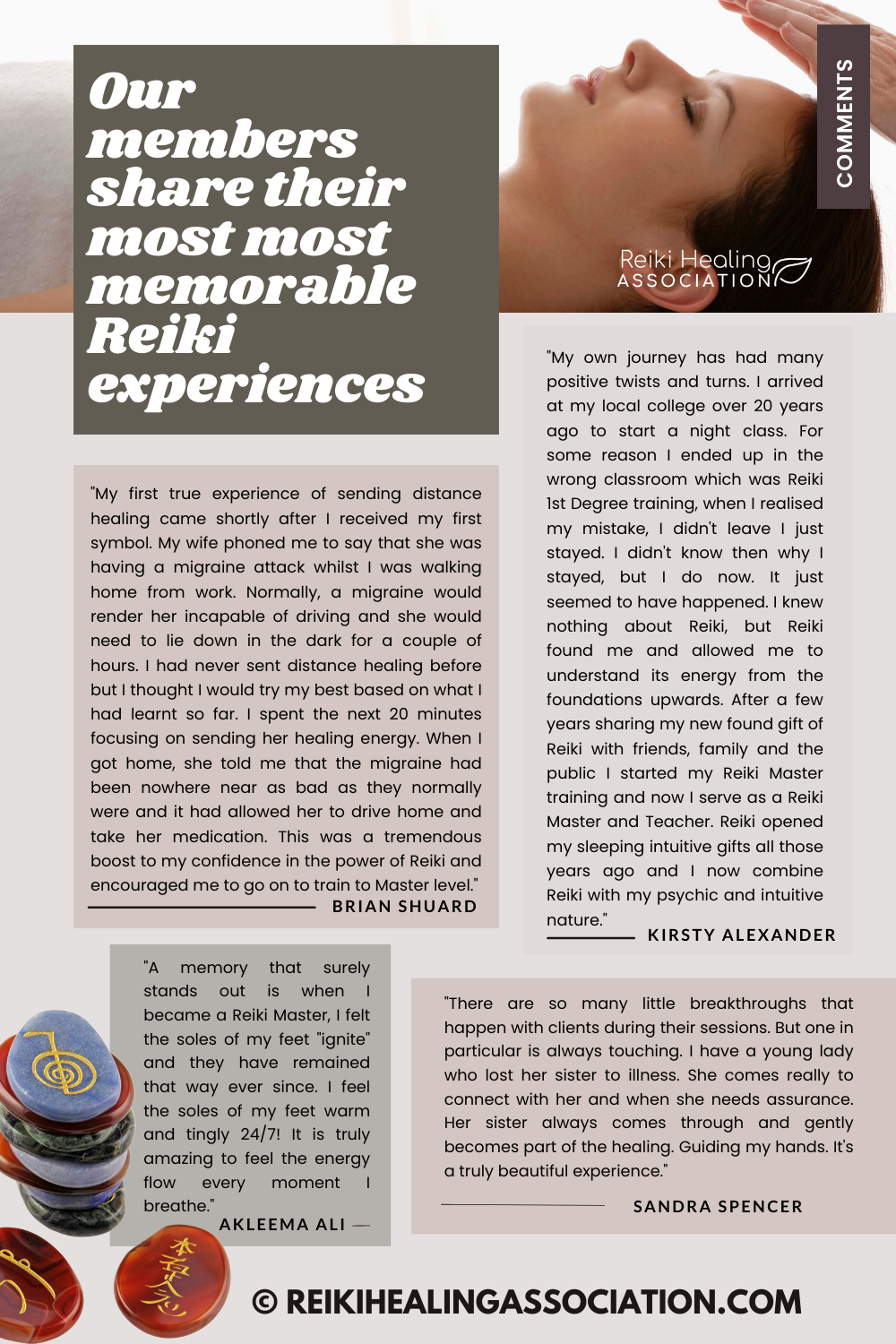 Pin this for later! RHA Members share their favourite Reiki Memories
Like this article? Share your thoughts in the comment box below!
Have you read the Universal Life Magazine yet? As Members of the RHA you get Exclusive Access to the Magazine, and to access your copy all you need to do is log in to your Member's Area. You can get a copy of the magazine if you subscribe to our newsletter too!
And for more Reiki resources, be sure to connect with the Reiki Healing Association on Instagram, where we post daily Reiki inspiration and advice for healing and growth as a Reiki Practitioner or Reiki-enthusiast! And don't forget to follow us on Pinterest, where we are pinning positive affirmations and empowering quotes every single day.
More Articles For You
Author Bio
Garry Malone, RMT, CMH, CHyp, MPNLP, Best-selling Author, Speaker, and the Founder of the Reiki Store, Reiki Healing Association and Reiki Business School. Garry's mission is to help Reiki professionals build their dream Reiki practice by turning their passion for Reiki and helping others into a successful, profitable and sustainable business.