100 Years of Reiki:

As we celebrate this historic anniversary for Usui Reiki, the Founder of the Reiki Healing Association, Garry Malone, reflects on the life, lineage and legacy of the Founder of Reiki, Mikao Usui (1865-1926)
"…As we stand on the shoulders of the Reiki Masters that have gone before us, we act as important custodians of Usui Reiki and Mikao Usui's incredible legacy…"
The Life and Lineage of Mikao Usui
In 2022 we celebrate 100 years of Reiki. One hundred years of healing, one hundred years of life-changing energy work, and one hundred years of this natural system of wellness and self-development created by the Founder of Usui Reiki, Mikao Usui.
Whilst Reiki energy has flowed through all things since the beginning of time, it is only in the last century that we have reconnected with this source of vitality thanks to Usui-Sensai, as he is respectfully known.
It is said that in April 1922, after fasting, praying and meditating for 21-days, Usui was given the gift of Reiki on Mt. Kurama, a scared mountain north of Kyoto, Japan. Tradition tells of a great bright light, which came down from the sky and hit his Third Eye Chakra, awakening an understanding of how to work with and harness the Universal Life Force. Usui first practised this healing method on himself and his family and friends, before sharing his insights and teachings with students in Japan, opening his very first Reiki clinic in Harajuku, Aoyama, Tokyo. It wasn't long, however, before he had to move his Training Centre to a much larger healing space outside of Tokyo, when word of this "miraculous medicine of all diseases" spread. His reputation grew rapidly, and people travelled from far and wide to study with him.
When a devasting earthquake stuck Tokyo in 1923 causing firestorms and catastrophic destruction, Usui and his students offered Reiki treatments to the victims of the natural disaster. In order to meet the increasing demand for Reiki, Usui started to teach a simplified form of Reiki to the public in order to help treat the survivors of the quake. He knew he would have to develop a method that could be understood and and accepted by any religion or culture, so he fashioned a system without any attachments to a set doctrine, dogma or religious belief. This made Reiki universal. It was accessible to everyone, regardless of background or status, and so easy to learn that it could be taught and passed on simply by word of mouth.
Usui travelled throughout Japan healing the sick and teaching his healing method. He went on to train more than 2,000 students and initiated twenty to the level of Reiki Master/Teacher (Shinpiden) by the time of his death in 1926 at the age of 62. Many of these students began their own clinics and founded Reiki schools and societies, including Dr. Chujiro Hayashi, a medical doctor and retired naval officer who established a clinic in Tokyo after Usui's passing. And so, the Usui Reiki lineage began and the future of the Usui system of healing was preserved.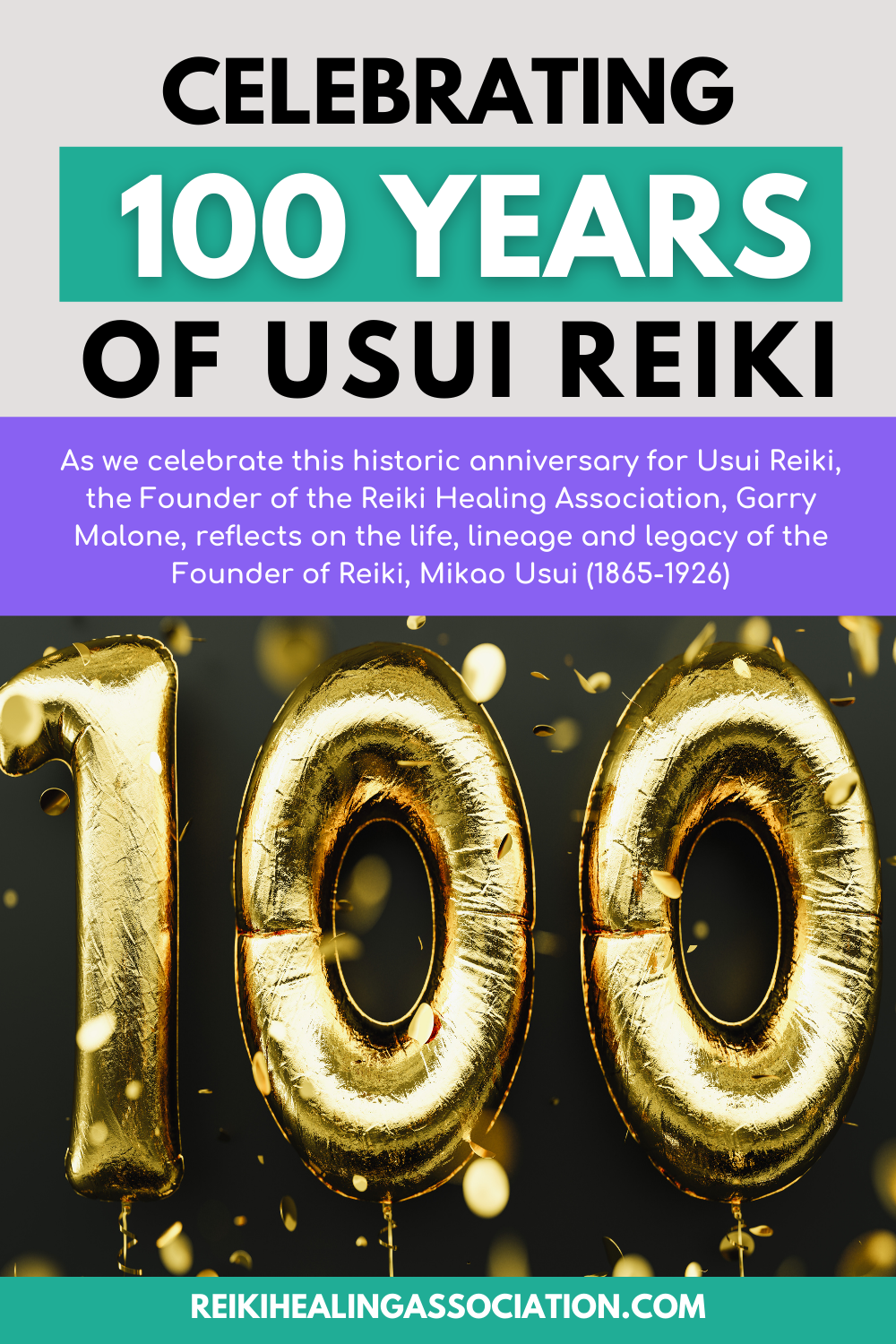 Pin this for later! 100 years of Reiki
"…And so, the Usui Reiki lineage began and the future of the Usui system of healing was preserved… "
Hayashi continued to develop his mentor's healing methods, combining both the teachings of Usui with his medical knowledge to expand and formalise the Reiki training he provided his students.
He went on to train thirteen teachers prior to his death in 1941, including Hawaiian-born Madame Hawayo Takata.
Takata had several serious health complications and conditions, so when she travelled from her home in Hawaii to Japan to inform her parents about the death of her sister and heard about Hayashi's practice, she went to find out more about Reiki. After receiving regular Reiki treatments for her ailments she noticed huge improvements in her health, so she stayed in Japan to begin her own Reiki training with Dr. Hayashi.
In the summer of 1937 Madam Takata returned to Hawaii and set up her own Reiki clinic. Dr Hayashi visited Madam Takata in February 1938 and invited her to become a Reiki Master.
As Hayashi's successor, Takata went on to to simplify many of the techniques and treatments she had learnt to create her own unique teaching style, which drove the popularity of Reiki as an natural healing system.
She passed on the gift of Reiki to 22 trained Reiki Masters, and is credited as introducing Reiki to the West. In fact, most Reiki Practitioners' Reiki lineage begins with Mikao Usui, followed by Chujiro Hayashi, Hawayo Takata, then one of the Masters that Madam Takata initiated.
The Legacy of Mikao Usui
Although the history of Reiki may differ across sources, at the core of Mikao Usui's story is tale of a compassionate soul on a life-long journey of personal and spiritual development. He was a great seeker of knowledge, and his studies spanned many disciplines and traditions including Martial Arts, Shugendo, Christianity, Tendai Buddhism and Shintoism.
Although Usui gifted us all with a healing system, Usui saw Reiki as a way of life. At the heart of his original teachings was the belief that Reiki was a path to personal development and enlightenment.
Indeed, even though hands-on healing is perhaps the most talked about element of the Usui system of Reiki, it is just one component of the teachings that he passed on to his students. Certainly, it is believed that Usui spent considerable time training his students about the importance of meditation and energy awareness before imparting any healing techniques. Self-healing and spiritual development were always a crucial part of his Reiki practice.
Along with powerful meditations, mantras and symbols, Usui gifted us a simple set of spiritual guidelines to support us on our own personal healing journey – in the form the Five Reiki Principles. "Just for today: Do not worry; Do not be angry; Do your work honestly; Be grateful; Be kind to all living things." Five simple yet profound precepts to live a meaningful, virtuous and graceful life, one day at a time. With regular practice, we can use these principles to add both stillness and substance to our lives in the knowledge that all we need to do is try our very best that day. 
Each principle will have its own personal meaning to us, which we can unlock with meditation and quiet introspection. This is perhaps part of the power of Reiki, in that it adapts to the needs of the student. There is no right or wrong way to embrace and work with Reiki. Usui gave us the tools, wisdom and guidance to begin the journey, where we end up and the exact path we follow is up to us individually.
Reiki Today 
For a considerable proportion of the last 100 years, Reiki was really only known about and practiced by a small pocket of people. Fast-forward to today, Reiki has become a widespread complementary therapy used across the world with many millions of people practicing this system of healing.
Certainly over the past century, as more people have opened up to the idea of holistic healing, we have seen Reiki grow in both popularity and acceptance. It is used in hospitals and hospices, and has been combined with other healing modalities to take on many different forms and approaches.
Although many other forms of Reiki exist today, Usui Reiki Ryoho remains the most common and widely practiced. As a result, we are all connected to Usui in the most beautiful energetic way. Each time we call upon the Reiki Masters that have gone before us, we are reconnected with his wisdom and guidance. Reiki continues to touch the lives of so many people today, bringing peace, balance and healing and providing light in the darkest of times.
 100 years of Reiki
The Future of Reiki
As we stand on the shoulders of the Reiki Masters that have gone before us, we act as important custodians of Usui Reiki and Mikao Usui's incredible legacy. As such, we have the privilege and responsibility to help continue to spread this incredible healing modality and way of life through our daily Reiki practice.
As we celebrate 100 years of Usui Reiki and look forward to the next hundred, we have an opportunity to help shape a better, more tolerant, peaceful and loving world through Reiki. In an increasingly face-paced, demanding and complicated modern world, we need Reiki now more than ever.
Usui's legacy is a wonderful example of how one individual can change lives and have a positive impact on the world. Each day, we honour his legacy by continuing to work with and expand our understanding of this healing system. It is an honour to be a part of this Reiki lineage and this Reiki community, changing the world one Reiki session at a time.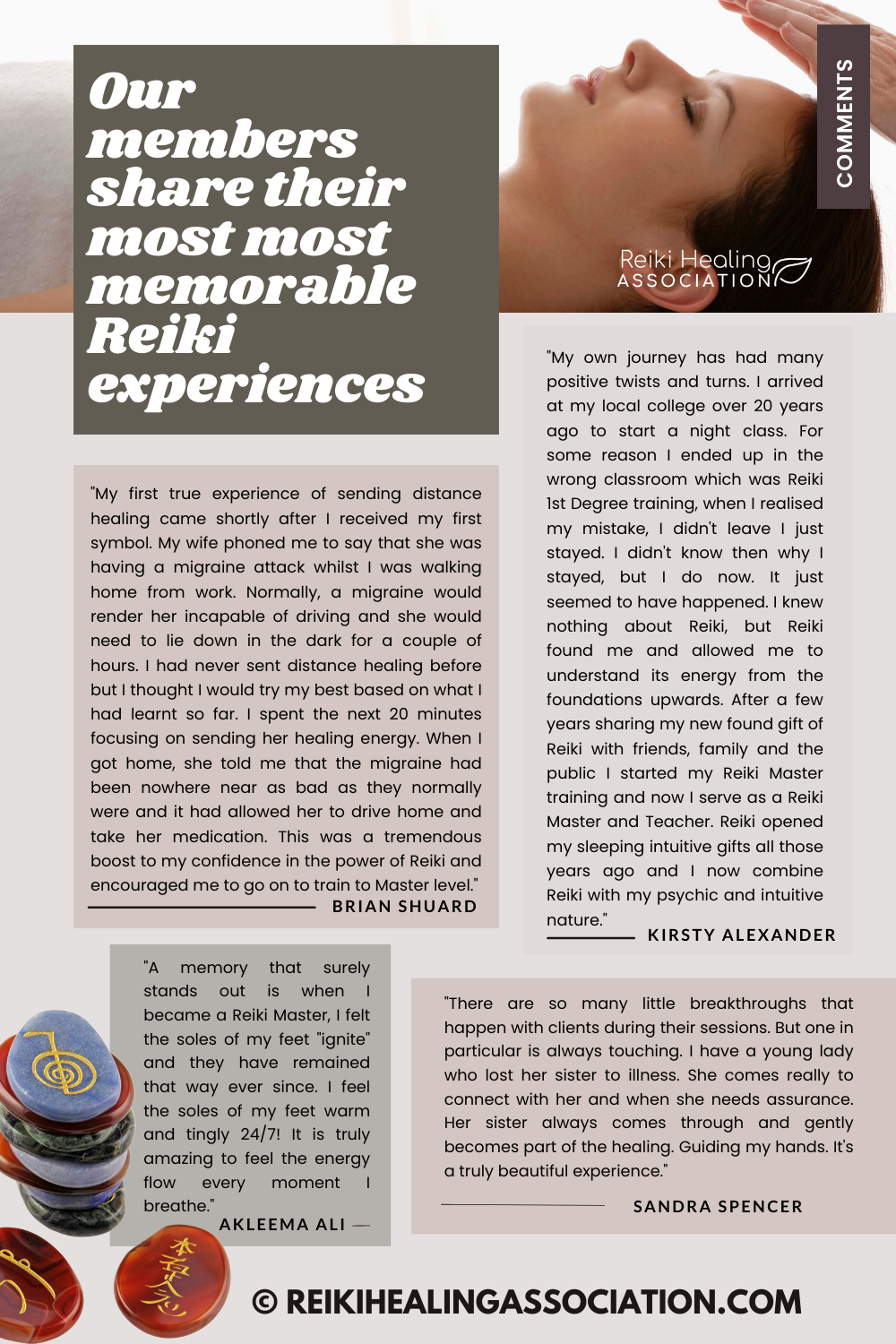 Pin this for later! 100 Years of Reiki
Have you read the Universal Life Magazine yet? As Members of the RHA you get Exclusive Access to the Magazine, and to access your copy all you need to do is log in to your Member's Area. You can get a copy of the magazine if you subscribe to our newsletter too!
Like this article? Share your thoughts in the comment box below!
And for more Reiki resources, be sure to connect with the Reiki Healing Association on Instagram, where we post daily Reiki inspiration and advice for healing and growth as a Reiki Practitioner or Reiki-enthusiast! And don't forget to follow us on Pinterest, where we are pinning positive affirmations and empowering quotes every single day.
More Articles For You
Author Bio
Garry Malone, RMT, CMH, CHyp, MPNLP, Best-selling Author, Speaker, and the Founder of the Reiki Store, Reiki Healing Association and Reiki Business School. Garry's mission is to help Reiki professionals build their dream Reiki practice by turning their passion for Reiki and helping others into a successful, profitable and sustainable business.