Healing the Heart Chakra (Anahata): Maria Emeterio shares her journey to heal her heart after the devastating loss of her grandson
"Give yourself permission to let it hurt but also allow yourself the permission to let it heal." – Nikki Rowe
I always thought I was a loving person, always giving what I could and helping others at every chance I could. That was until I had my first grandchild, Jax, and he opened a part of my heart that I never thought possible.
Then four months and 11 days later, Jax passed away from Sudden Infant Death Syndrome (S.I.D.S), and my heart shattered.
The loss was so painful; watching my son, lose his son was something so unbearable. The tears and heartbreak — I never thought I would recover. How could I have so much love brought into my life, and then suddenly such devastation. My life would never be the same.
Pin this for later! Healing the Heart Chakra
Turning to Reiki
At this time in my life, I was already aware about Reiki and energy healing, in fact several of my lifelong friends were Reiki Masters. One day they asked if they could perform Reiki on my heart. I reluctantly agreed, fighting off the Reiki because I thought it would erase the memory of my Grandson.
When I began learning more about Reiki myself, I realised that you must be open to Reiki to experience its most profound benefits and allow the healing to take place. After taking multiple courses and now becoming an advanced Reiki Master Teacher I know that you can't receive or give Reiki unless the person is open to it.
I also realised that healing myself was the KEY to being able to go on and truly help others, and I began to work on my healing journey one chakra at a time. The Reiki principles acted as my guides. I wake each morning grateful for another day, and another opportunity to help heal myself and others. I sometimes fail by allowing worry or anger to enter my day, but then I immediately remind myself to LIVE those principles.
The Anahata
If there was one thing I would tell anyone who wants to heal their past, present and future, it is that Reiki and Chakra balancing is the key.
The Heart Chakra is still my biggest challenge. It is the heart that feels the pain of grief and loss physically, energetically and emotionally. I practice chakra clearing every evening, and carry my heart-shaped crystals with me daily. When I need a little boost of healing I reach into my pocket and remember that I am love and joy, and I have so much to offer the world.
Reiki has allowed me to express my emotions and let my vulnerability shine through unapologetically. I think this has in turn helped me to create a safe space for others to heal from similar pain and grief. Because when we are truly honest with ourselves and the process of healing, it allows others to see that they are not alone in their feelings or apprehensions, helping them to feel safe to go forward in their own healing journey.
The Heart Chakra is a place where both beauty and grief can coexist as we heal and raise our vibration and let love and light heal us once again. I am human, and I may fall short, but I ALWAYS get back up and learn and get stronger with each day. I love connecting with the Universe and my guides to ask them to help me to be the conduit to provide the healing for their highest greatest good, and in return I receive the benefits of the Reiki healing within myself.
Healing Heart Chakra Crystals 
Crystals are a great tool for clearing and healing the Chakras. There is no limit to the healing you can get from crystals, and they have been a very important part of my healing journey. I am that person who has crystals in my car, all over my home, on the windowsill, in my pockets, at my desk at work… I have even started carrying little tumblers of crystals around to give to people when the need arises.
Every day I grab a crystal and I ask them to help guide me through my day. About 95% of my crystals are heart shaped. I have been collecting heart shaped items for about 20 years from, rocks, seashells, to sea glass and NOW crystals.
In my Reiki healing and Chakra balancing sessions, I use HEART Shaped crystals, it gives me a reminder to be open, and remember that the healing I'm about to provide is for my client's highest good. It also signifies to me to take a deep breath and trust in the process.
The crystals I most use for healing the Heart Chakra include these eight stones: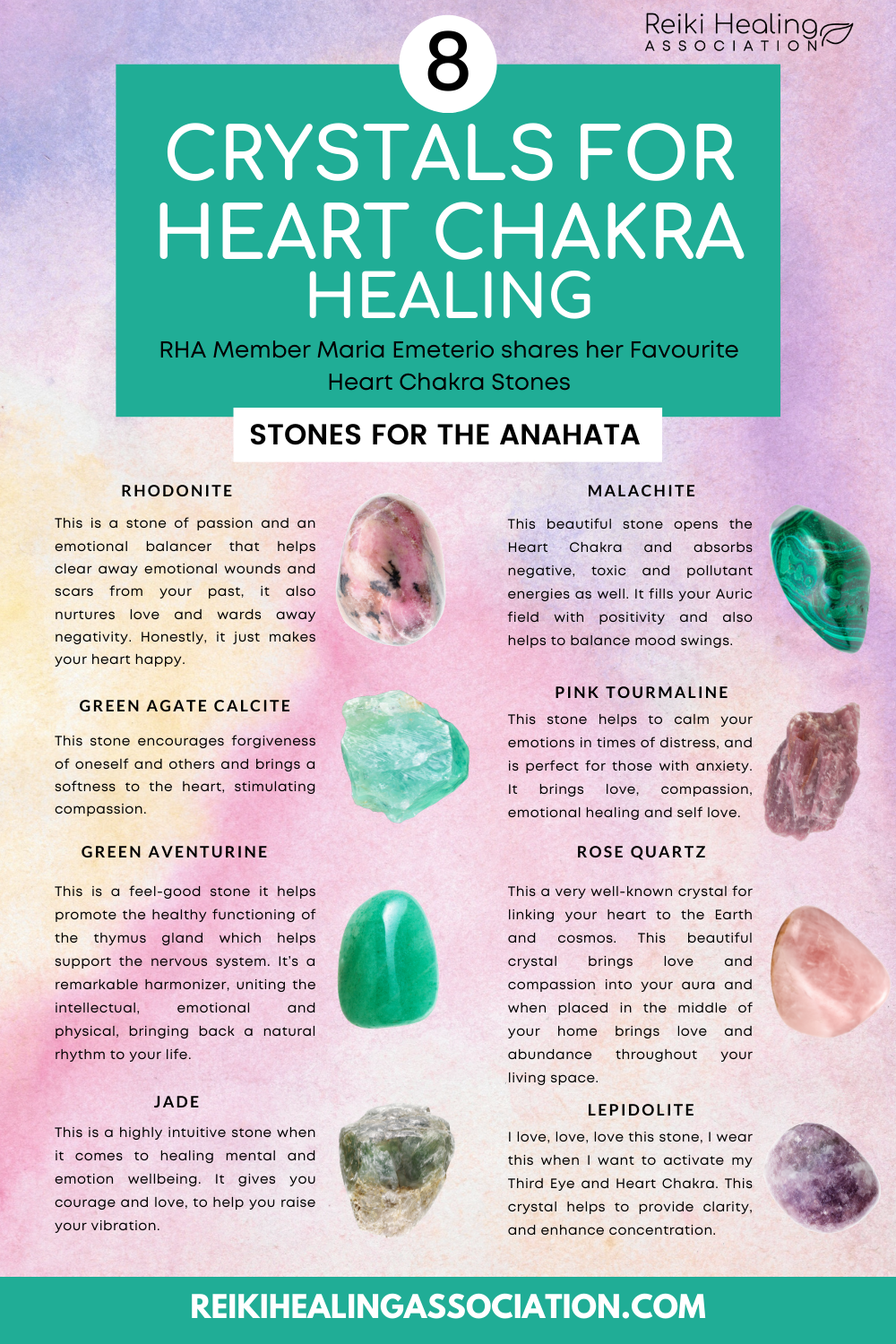 Healing Crystals for the Heart Chakra
Finding Your own Healing Tools
You will of course find your own crystals that you feel drawn to come with you on your own healing journey, these are just some of my suggestions. There are so many crystals to choose from and discover! And if you are new to crystal healing, you can start out by using a few well-known stones recommended for Reiki and Chakra healings, and then gradually find your own way forward.
Pin this for later! Healing the Anahata
Like this article? Share your thoughts in the comment box below!
And for more Reiki resources, be sure to connect with the Reiki Healing Association on Instagram, where we post daily Reiki inspiration and advice for healing and growth as a Reiki Practitioner or Reiki-enthusiast! And don't forget to follow us on Pinterest, where we are pinning positive affirmations and empowering quotes every single day.
Have you read the Universal Life Magazine yet? As Members of the RHA you get Exclusive Access to the Magazine, and to access your copy all you need to do is log in to your Member's Area. You can get a copy of the magazine if you subscribe to our newsletter too!
More Articles For You