The Hon Sha Ze Sho Nen Symbol Explained: RHA Member Aparna Vemula, shares how she work with the HSZSN Symbol to access deep healing for her clients.
"Trust the process, you do not need to know how it works, only that it does." ― Hazel Butterworth
Along with Cho Ku Rei and Sei He Ki, Hon Sha Ze Sho Nen is a powerful symbol that is attuned to Reiki second degree students. The distance symbol is one of the most widely used reiki symbols and significantly more complex than the other two symbols.
It is pronounced "haahn-shah-zee-show-nen"; and abbreviated as "HSZSN"
The Meaning of the Hon Sha Ze Sho Nen Symbol
The meaning of Hon Sha Ze Sho Nen or the distance healing symbol is commonly interpreted as 'No past, no present, no future' and is used primarily to send distant healing, transcending time, space and distance.
The symbol carries with it the inherent understanding of everything being divine consciousness, the place we are all one. It reiterates the concept of "the Higher Self in me connects to the Higher Self in you to promote deeper peace and harmony".
To me, the distance healing symbol helps to bridge hearts as one enlightened highway, forming a divine connection to all beings.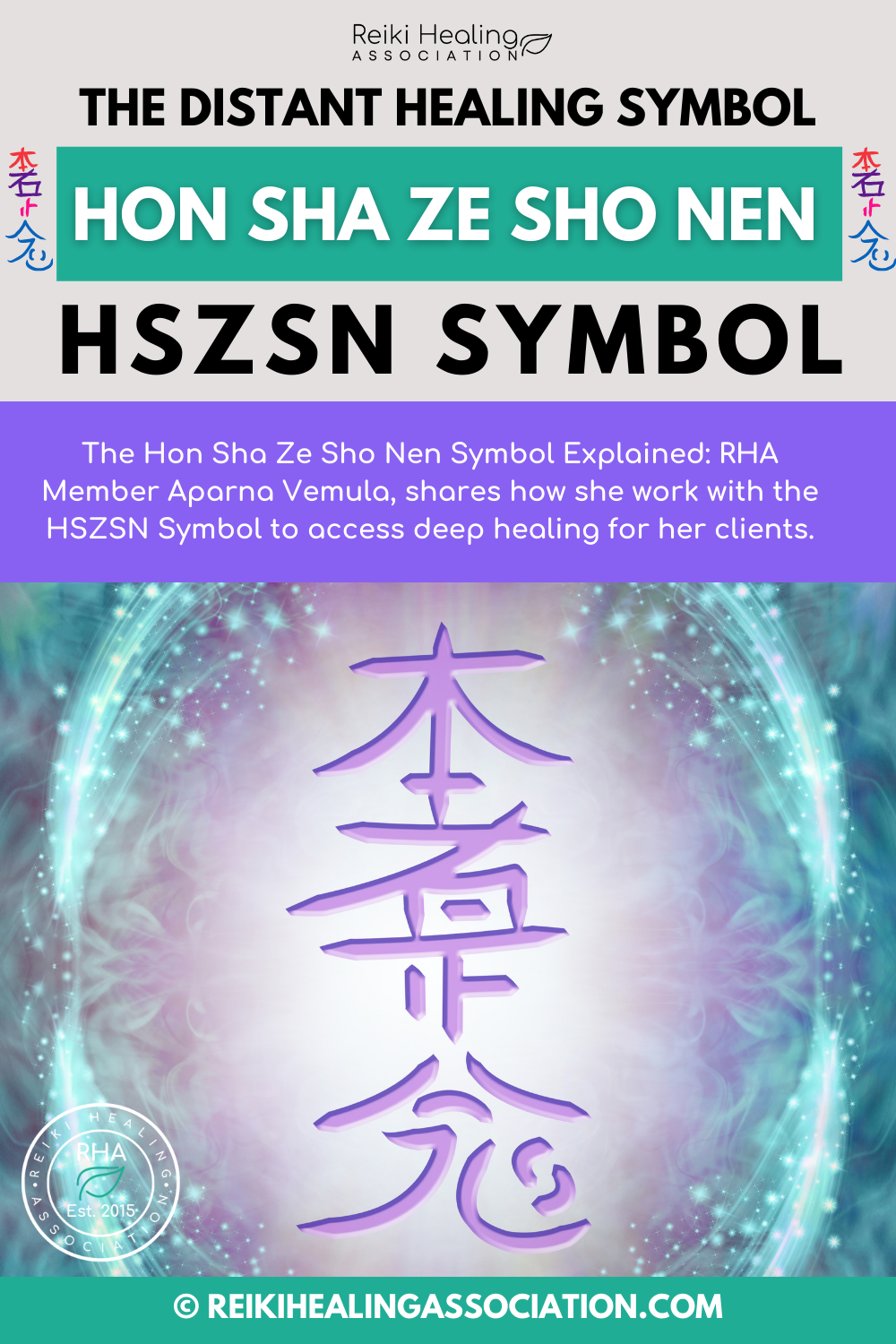 Pin this for later! Hon Sha Ze Sho Nen – Your ally in timeless healing
Hon Sha Ze Sho Nen Explained
Being a distant healer, I regularly invoke HSZSN in my practice. Reiki energy can be directed to past situations to heal old wounds, allow clients to release stuck emotion and help transform trauma, even as far as previous lifetimes. Whilst reiki can be sent to clients across a room, city or even to those residing on the other side of the world, it can also be directed toward future events like meetings, travel and scheduled surgeries for an optimum outcome.
It helps to engage in an optimistic outlook toward life with positive expectation of things to turn out good.
When using it for distance healing, rather than working directly with the physical body or the chakras, it is most effective to send reiki to the subtle, energy body or the bio-field of the individual, pets or plants, as a whole. This helps dissipate the energy freely to areas, whether on the physical, spiritual or energetic planes that need it the most, without limiting to a particular ailment.
Sending Reiki through this symbol
There are many ways to sending reiki through the distance symbol, each practitioner modifies in a way that harmonizes for the highest and best outcome for the client. Using this symbol, just as with the others, intention and intuition provide the most effective way to connect and direct reiki.
• Activate the power symbol (Cho-Ku-Rei) either by intoning or drawing the symbol three times on the palm of your dominant hand.
• Draw the symbol HSZSN in the air or intone it three times and place it on top of Cho-Ku-Rei.
• Complete the sandwich by invoking the power symbol again, by either drawing it or intoning it three times.
• Now project the reiki sandwich from the palm to the client either in presence or in distance using a proxy.
• Allow Reiki to flow to the recipient for the greatest good.
• Offer gratitude for the session and close it by releasing the connection either by running hands under cold water or by placing palms on the earth.
Drawing Hon Sha Ze Sho Nen
All strokes are drawn from left to right and top to bottom; Unlike Cho-Ku-Rei, this symbol does not have any mirror versions. It follows the same direction, irrespective of it being used in self-reiki or for others.
Because of its complexity, the symbol can also be imagined or intoned to activate its power.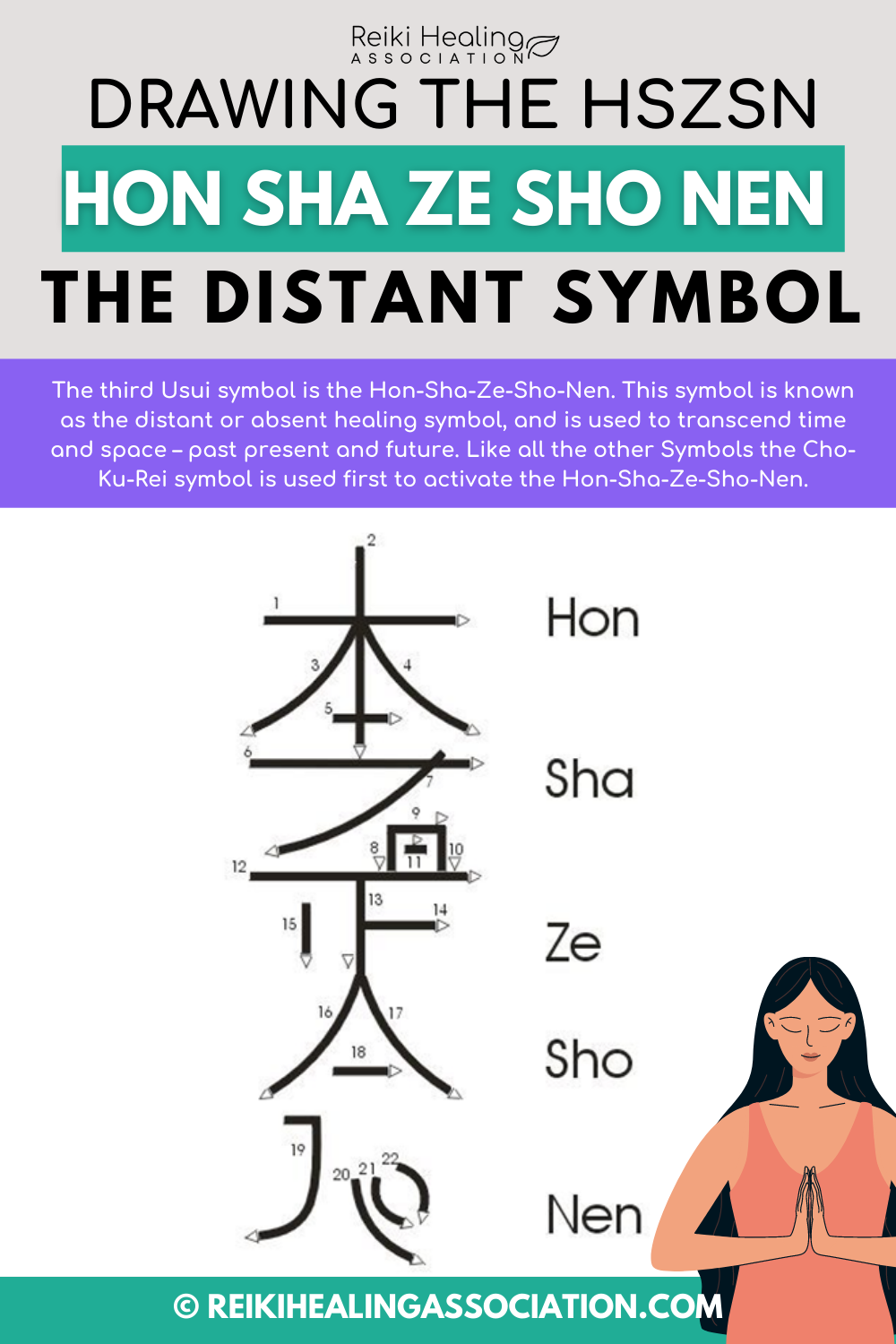 Pin this for later! Drawing the Hon Sha Ze Sho Nen Reiki Symbol
Examples of Using the Hon Sha Ze Sho Nen Symbol
To Heal across Time and Space: The primary use of HSZSN is to send healing energy across a room, town, or just anywhere in the world. Healing can also be directed to places experiencing crisis situations or natural calamities.
Healing the Past: Time is no barrier when using HSZSN, whether it is a traumatic event that has occurred in the past or a previous lifetime, sending reiki can help heal "old wounds" that may still be affecting in the present. Although, it will not change the past or the events, it helps to reframe the experience as part of the learning process, without holding on to the trauma.

HSZSN also helps in healing of karmic patterns and conditional behaviours. But it should be noted that reiki cannot change any individual or their behaviour, the wisdom of reiki works toward the best possible outcome in any situation.
Enhance Future Conditions: Sending reiki using HSZSN for future events helps to create an energy container that can help create positive outcomes. It can be sent to scheduled surgeries, meetings, interviews, workshops or traveling to help navigate any unforeseen circumstances with better ease and faster recovery.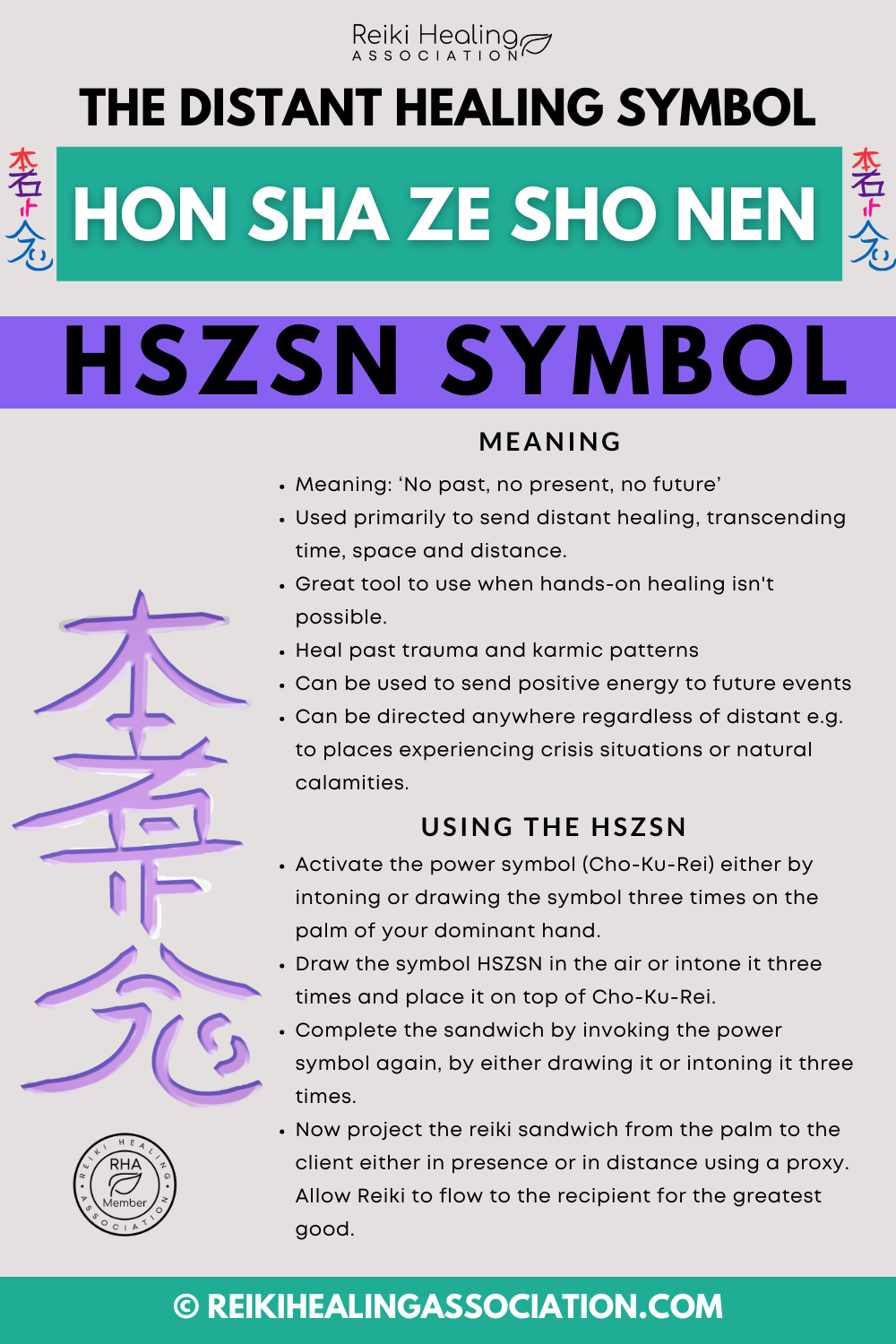 Pin this for later! Using the Hon Sha Ze Sho Nen Reiki Symbol
Like this article? Share your thoughts in the comment box below!
And for more Reiki resources, be sure to connect with the Reiki Healing Association on Instagram, where we post daily Reiki inspiration and advice for healing and growth as a Reiki Practitioner or Reiki-enthusiast! And don't forget to follow us on Pinterest, where we are pinning positive affirmations and empowering quotes every single day.
Have you read the Universal Life Magazine yet? As Members of the RHA you get Exclusive Access to the Magazine, and to access your copy all you need to do is log in to your Member's Area. You can get a copy of the magazine if you subscribe to our newsletter too!
More Articles For You