Just for today I will be grateful: RHA Member Akleema Ali shares her journey to reach 1000 days of Gratitude.
"…In the blink of an eye, we reached 200 days of gratitude. And whilst daily gratitude was a struggle at times (because sometimes it seemed repetitive and routine); retrospectively we all could see how gratitude had made us better versions of ourselves. We were able to see that in spite of all the life events that we faced; it was gratitude that kept us going…"
Beginning my path with gratitude…
The Merriam-Webster dictionary has the definition of gratitude simply as "the state of being grateful – thankfulness." There is a lot of literature on gratitude and its emotional, social, personal, career and health benefits. With so much to gain, how difficult is it to be thankful and live in a state of gratitude everyday? This is my own personal story and journey towards a more grateful outlook on life.
I first came across gratitude while I was doing some research on Positive Psychology in 2010. Positive Psychology is a branch of psychology founded by Dr. Martin Seligman. What really caught my interest about this field of psychology was the new way that it looked at human potential and our ability to achieve the things we want in life. It moved away from traditional and classic psychology, that focuses on diagnoses and definitions of mental illness, personalities and disorders, and instead focused on the factors that contribute the most to a well-lived and fulfilling life.
The literature and books I went on to subsequently read, all highlighted gratitude as an important foundation for a happier life, and a powerful tool to enhance wellbeing.
One of the gratitude exercises that I read about suggested that you should list 3 things that you are grateful for each day. I decided to challenge myself to see how hard this exercise could really be.I should say that this was not the first time I have tried this activity – in the past I have had varying results with gratitude journaling. Sometimes I went for a few days and stopped. Other times I went for a couple weeks but then I stopped. There was one time where I went for 60 days, but alas, just totally stopped one day.
The idea of being grateful everyday and making a list stayed with me like a shadow, but I realized at first I needed some support – a gratitude buddy! Surely this would be easy to find, since everyone I was talking to kept saying they were grateful and they gave thanks everyday. Well in reality, I asked around my family and friends to see if anyone would be willing to do a gratitude challenge with me – listing 3 things everyday that we were grateful for. Sadly, it failed several times. Even though people wanted to give thanks, they were generally not interested in listing or documenting their gratitude.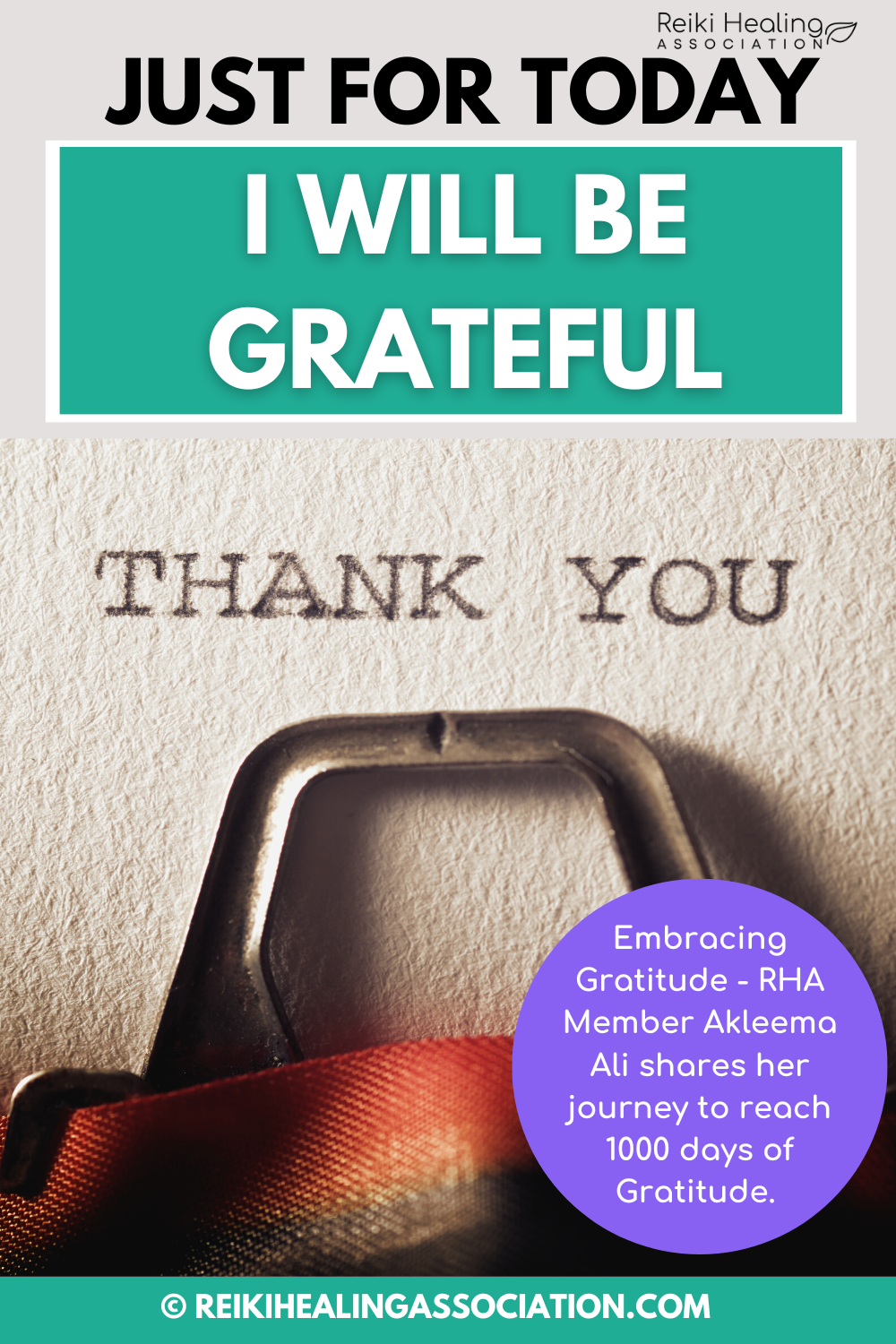 Pin this for later! Embracing Gratitude – Just for today I will be Grateful
My Path of Gratitude with Reiki

…
When I became a Reiki Master in 2018, I learnt that my daily lifestyle should reflect the Five Principles of Reiki.
While there were five principles in total, the one that caught my attention the most was the one on being grateful. I was instantly reminded of my gratitude practice and I was more determined than ever to resume this daily routine and also find people who would be willing to share this journey with me.
I enquired in the most unlikely place for me – "the workplace." Work colleagues have bonds and can relate to each other based on sharing the same working environment, the same operating procedures and the same grievances. But would they be open to sharing more personal matters, their personal struggles and inner thoughts? I was unsure. So, I was pleasantly surprised when I got four individuals who said they wanted to try it.
Of course, they were more curious than anything else about what this gratitude practice entailed, what they needed to do and what they should expect to happen in doing the practice! I filled them in on the basics, and together we started a daily practice of gratitude in 2019. At first the group was very cautious. People did what was expected, and just listed 3 or more things that they were grateful for that day. Everyday I would post up motivational and inspirational material concerning gratitude. When the pandemic came upon us and our working environment became virtual from March 2020, little did we realize that gratitude would become the key and the best survival skill we could ever have to stay afloat amidst the struggles that life threw at us.
We soon realized and experienced that being grateful was the doorway to many things. I began to live and experience all of the things that I had read about in all those psychology books and articles. After 100 days of gratitude, the women in the group realized that the gratitude group became a sacred space – a space where, in giving thanks, we also tried to see the positives in everything that life threw at us. It built a resiliency we never knew we had. The 100 days met us with excitement, shock and a new energy to see if we could reach 200. (I found out later we were all secretly unsure we would make it to the first 100!)
As the pandemic directed our lives, the group also faced death of family members, financial difficulties, loved ones who were stuck abroad, family members who were unemployed, new health problems emerging and ongoing obstacles in working from home.
In the blink of an eye, we reached 200 days of gratitude. And whilst daily gratitude was a struggle at times (because sometimes it seemed repetitive and routine); retrospectively we all could see how gratitude had made us all better versions of ourselves. We were able to see that in spite of all the life events that we faced; it was gratitude that kept us going. Gratitude kept us alive; gratitude made our relationships healthier and more amicable. Gratitude made us more spiritual, each finding our renewed connection to the Divine and what the Universe was blessing us with. Gratitude also, at times, seemed to magically open up opportunities for each person – as if it was the Universe saying: "Keep saying thank you and I will reply thank you in ways you cannot imagine."

Gratitude continued to transform us into versions of ourselves that we never thought we could be as we hit 300 days of gratitude. It proceeded to direct us inward and reveal to us our personal inner strengths, mental and emotional weaknesses, daily struggles and daily reminders not to take anything for granted. The layers of self-discovery seemed never-ending.
Over time, gratitude made us view each other differently. Each person in the group was no longer just a colleague – they were an important part of our journey towards our most authentic and grateful selves.
We each experienced our own personal highs and lows, our own moments of clarity and healing and personal inspiration along the way, but we got to share in the experience together which made the journey all the more transformative.
By 800 days, we had all developed the confidence in ourselves to keep this gratitude practice going on our own. 29th August 2022 will mark 1000 days of gratitude.

My Eternal Journey with Gratitude…
The path of living each day with gratitude is not easy; but it continues to transform me and that remains my eternal gratitude. And I can definitely say that I have been blessed to experience and know what it is like to practice gratitude every day. It becomes your life, the boat that directs your life, the compass needed for direction, and it also becomes the water on which your boat is on.
It is definitely challenging at times, especially in moments of grief, sorrow and illness, but it encourages us to keep looking through the lens of gratitude for all the blessings that are around us.
Gratitude has enabled me to consciously live the principles of Reiki and while there are five principles of Reiki to live by; I will personally say that focusing on giving thanks has allowed the other 4 principles to flow more effortlessly in my life. Today I challenge each person to live the Reiki principle of gratitude. See where it takes you!
Pin this for later! Just for today I will be grateful – Embracing Gratitude
Like this article? Share your thoughts in the comment box below!
And for more Reiki resources, be sure to connect with the Reiki Healing Association on Instagram, where we post daily Reiki inspiration and advice for healing and growth as a Reiki Practitioner or Reiki-enthusiast! And don't forget to follow us on Pinterest, where we are pinning positive affirmations and empowering quotes every single day.
Have you read the latest issue of Universal Life Magazine yet? As Members of the RHA you get Exclusive Access to the Magazine, and to access your copy all you need to do is log in to your Member's Area. You can get a copy of the magazine if you subscribe to our newsletter too!
More Articles For You