Reiki and Chiropractic Care: RHA Member
Charles Lightwalker shares his research to combine energy enhancement modalities for more profound healing
"…combining energy enhancement modalities created a synergy of healing that provided a deeper, more profound sense of well-being…"
As a Reiki Master since 2001, I have used Reiki in many healing situations over the years. My greatest experience in using Reiki came when I had the opportunity to do a research project with local chiropractor Dr. Pat Dougherty. Our chief aim was to document the affects Reiki had on patients, in conjunction with their chiropractic care.
Dr. Dougherty and I selected three patients as test subjects. All the subjects presented with physical complaints, and all were familiar with both Reiki and chiropractic treatments. Each patient underwent a series of three combined chiropractic and Reiki sessions that were completed in a time frame of between 8 and 15 days. The order of the sessions was different for each patient.
Pin this for later! Reiki and Chiropractic Care
Quality of Life Questionnaire
The patients shared their level of wellness before their appointment by filling out a Quality of Life Questionnaire, in addition to filling out a pain diagram and writing a brief synopsis summarizing their feelings about each visit.
Participants were asked to score their level of wellness in each of the following categories.
Dealing with anxiety and stress

Energy Level

Positive attitude

Mental clarity

Sleep Quality

Optimism

Stamina

Exercise tolerance

Joint flexibility

Muscle tone

Healthy digestion

Freedom from caffeine

Healthy eating

Weight loss management success

General feelings of wellness
The subjects were not allowed to see what scores they put down on the previous visit so as not to bias their answers. Interestingly, each subject put down a higher score on the third visit in every category than they did on the first visit.
The input we received revealed that patients receiving Reiki treatments prior to their chiropractic care felt more attuned to their bodies. They were better able to express where they felt off balance, and where aches and pains resided in their bodies. They also noted they experienced calmness after the combination treatments. They expressed the belief that the Reiki/chiropractic sessions made their day brighter, more enjoyable, and worry free. This peace of mind sometimes lasted several days following a treatment.
We cannot be sure that these results are solely attributable to the treatments we provided to the subjects. We can be certain from these results that all three of the subjects were more satisfied overall, and in distinct categories of life, than they were before they began treatment.
Dr. Dougherty also observed that it was easier to adjust the patients following a Reiki treatment. It also appeared that patients could communicate more directly their health concerns post Reiki treatment.
It is our belief that combining energy enhancement modalities created a synergy of healing that provided a deeper, more profound sense of well-being. As a result of this experiment, it's obvious that combining energy treatments can enhance the quality of life for all who receive this care. With this awareness, it is my hope that more Reiki practitioners and chiropractors form partnerships to increase the effectiveness of their energy work.
Reiki and Chiropractic: Similarities & Differences
Although Reiki and chiropractic may seem like very unique practices, there are many similarities between these modalities which we can harness to provide deeper healing sessions.
Similarities between Reiki and chiropractic:
Just as Reiki is energy medicine, so is chiropractic.

Each is a method of introducing energy into a person's body that will reorient and amplify the subject's energy.

Each is a healing modality.

Each can transcend the conscious mind in order to access the subconscious where change happens more quickly.

Each modality seeks to address the areas of greatest tension or pain.

Each can be performed on a one-to-one basis.
There are a couple of major differences between the two modalities:
Reiki typically involves no touching, whereas chiropractic is usually quite a hands on experience.

Reiki transmits energy through the auric field, while chiropractic uses the nervous system as a vehicle for transmission.
As both Reiki and chiropractic care involve moving energy that is stuck or not flowing properly in a person, combining these healing modalities can provide deep healing on both physical and emotional levels. This synergetic approach allows us to go beyond the physical and address the emotional root of tension in the body.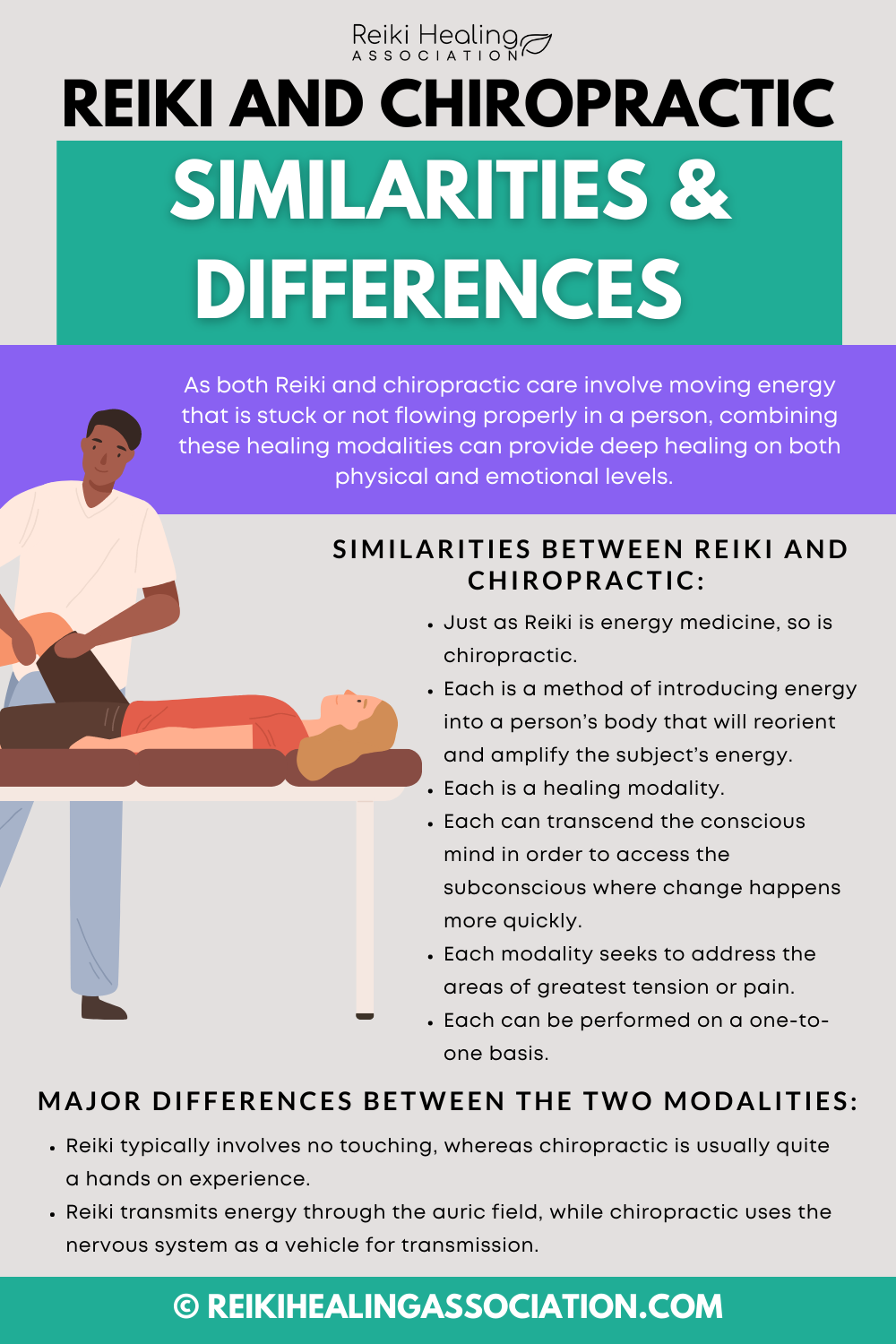 Pin this for later! Reiki and Chiropractic Care
Like this article? Share your thoughts in the comment box below!
And for more Reiki resources, be sure to connect with the Reiki Healing Association on Instagram, where we post daily Reiki inspiration and advice for healing and growth as a Reiki Practitioner or Reiki-enthusiast! And don't forget to follow us on Pinterest, where we are pinning positive affirmations and empowering quotes every single day.
Have you read the Universal Life Magazine yet? As Members of the RHA you get Exclusive Access to the Magazine, and to access your copy all you need to do is log in to your Member's Area. You can get a copy of the magazine if you subscribe to our newsletter too!
More Articles For You