Reiki and End of Life Care: Rev. Dr. Tracy Cox, Explores how Reiki can help to bring relief and comfort to patients who are completing their earth journeys
"…As we uplift hospice patients in this healing light, their spirits will be supported and helped into the afterlife by the miracle of Reiki.."
One of life's most challenging experiences is to become a caregiver for the elderly. There are many momentous life transitions that the elderly must go through as they reach the end of their life journey and transition back into pure spirit, and most of these situations are emotionally confronting on fundamental levels.
Facing one's mortality is scary stuff, at least for a time as the person processes the experience. When you add in the confused thinking that those suffering from dementia endure, it makes sense that our caregiving work will be challenging on all levels. The most intense part of this work is when the the elderly person that we are looking after begins their "end of life transition," which is a much more comforting term to use than "dying" for most people. Luckily, we have the miracle of Reiki to assist us in our caregiving journey.
We are living in very exciting times for Reiki. Discussions about spirituality are becoming commonplace, and this openness has led to the crucial conversation on how to help the dying transition into spirit in the most kind, compassionate and practical way. Reiki practitioners are regularly volunteering at hospices to bring relief and comfort to patients who are completing their earth journeys. This important yet challenging field of end of life care is a wonderful way to share the beautiful healing energy of Reiki with mankind.
Pin this for later! Reiki and End of Life Care
Reiki can ease the transition into spirit for the dying
As an ordained minister and Reiki Master Teacher, I am sometimes called upon to minister those who are close to death, to comfort them, and to perform last rites. I have found that the use of Reiki can ease the transition into spirit for the dying. Using Reiki can also help support the living, who are often left having to answer many stressful questions that go along with the funeral and estate. Emotions and grief run very high at this time, and I have found that the use of Reiki can help calm everyone involved, as well as helping them to get in touch with their feelings in a constructive manner.
As we lift each challenging and sometimes devastating portion of the grief journey up to the light of Reiki, wonderful miracles of healing and comfort are allowed to shine through and illuminate the new reality of death and the afterlife.
Here are a few simple ways to integrate your Reiki practice into working with the dying in this important new field.
Regular Self-Reiki is Key
Make sure to do your self Reiki every day. The emotional toll of end of life care cannot be overstated. If we take some time every morning to do our self Reiki, the rewards will be immense. Doing self Reiki in bed before you even step out of it is an incredibly effective way to make sure that you are fully balanced and protected before you begin your day. In this way we can help the dying without absorbing the fearful energy that sometimes comes up during the death process. Make sure to protect yourself first.
Beam Reiki Distantly

Use distance Reiki to send the healing energy to support your patient who is transitioning into spirit. Any time you think of this person, send them the beautiful healing energy of Reiki. Close your eyes, place prayer hands over your heart and ask Reiki to heal this person in body, mind and spirit, for the highest good, and then beam the Reiki symbols to them. (Of course, you should obtain their permission, or the permission of their loved ones to do so.) As you do this, fully release this person to the highest good of all concerned.
It is important to remember that we cannot force nature to do what is not natural, and the death process is a natural function of life. One day we will all die and transition into spirit, and the use of Reiki can help us do so in a calm, peaceful and beautiful manner.
Be Gentle and Respectful 
When doing one-on-one Reiki with the dying, make sure that you do not bring discomfort by placing your hands on them physically, unless it is obvious that they are enjoying your touch. Sometimes the dying are in great pain, and any touch can be agonizing, so let your hands hover over the dying as you perform your Reiki session and you will find that they may be much more comfortable and receptive to the beautiful spiritual energy of Reiki.
Try using a few of these ideas in your Reiki practice, and you will find that Reiki is an indispensable way to share beautiful healing energy with the dying. As we uplift hospice patients in this healing light, their spirits will be supported and helped into the afterlife by the miracle of Reiki.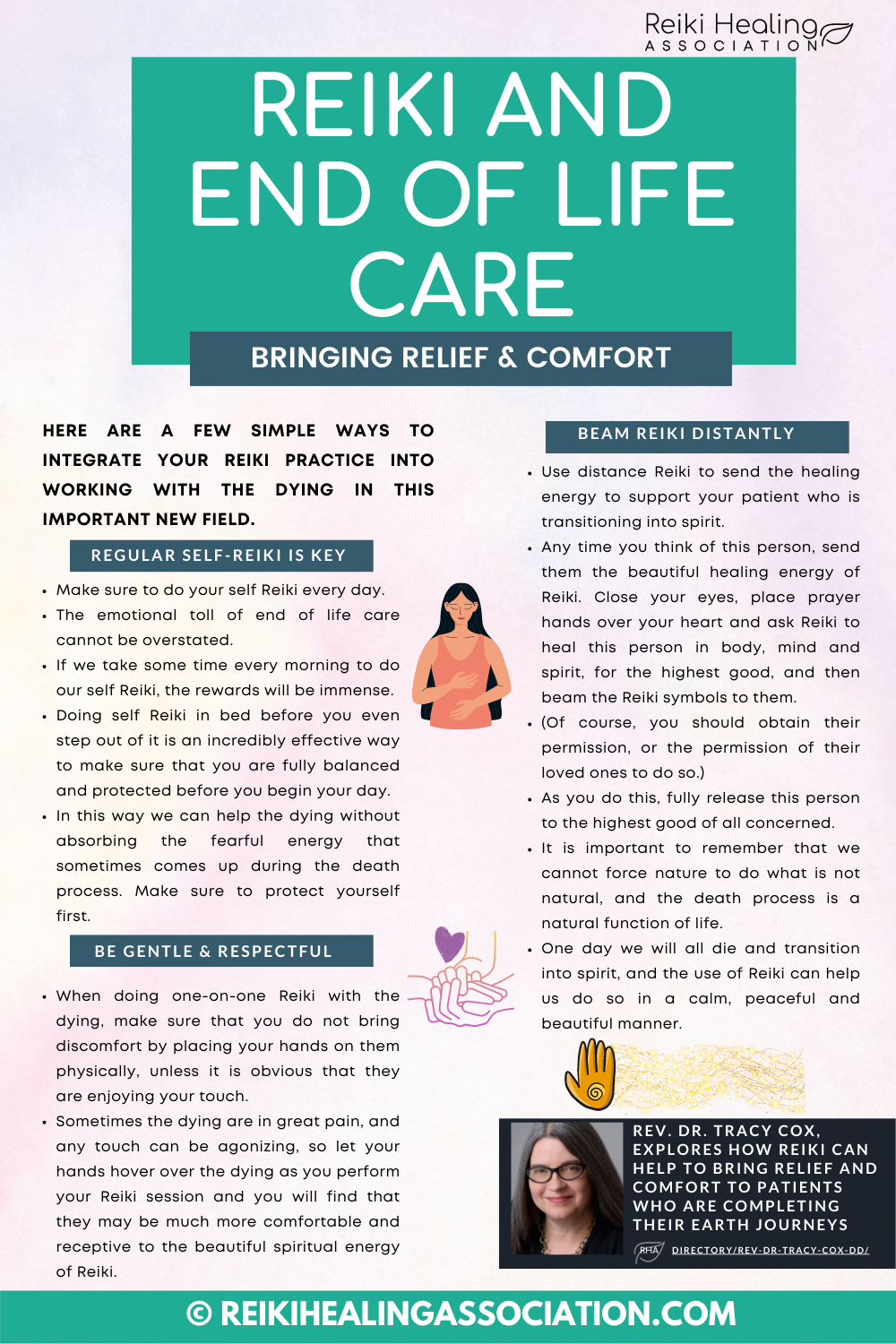 Pin this for later! Reiki and End of Life Care
Like this article? Share your thoughts in the comment box below!
And for more Reiki resources, be sure to connect with the Reiki Healing Association on Instagram, where we post daily Reiki inspiration and advice for healing and growth as a Reiki Practitioner or Reiki-enthusiast! And don't forget to follow us on Pinterest, where we are pinning positive affirmations and empowering quotes every single day.
Have you read the Universal Life Magazine yet? As Members of the RHA you get Exclusive Access to the Magazine, and to access your copy all you need to do is log in to your Member's Area. You can get a copy of the magazine if you subscribe to our newsletter too!
More Articles For You
Author Bio
Rev. Dr. Tracy Cox, DD is a Reiki Master Teacher, Spiritual Mentor and Coach. She works with clients and students worldwide by phone or webcam. She has an active spiritual ministry and is an Ordained Minister who has been awarded her Doctor of Divinity degree. Her doctoral dissertation was focused on scientific research proving the power of prayer. She uses the information from her research to help her clients heal and overcome their challenges in all areas.

Website: www.revdrtracycox.com
RHA Profile:  https://reikihealingassociation.com/directory/rev-dr-tracy-cox-dd/