Just for today I will be kind: RHA Member Aparna Vermula shares the kind & compassionate role Reiki played in her challenging fertility journey 
"….For the first time in many years, I experienced being enveloped by a blanket of kindness. I felt so lovingly held in the embrace of this compassionate energy, there was no judgment of who I was or what my imperfections were. It was as if I met a dear friend in Reiki — loving, considerate and compassionate…" 
My path to motherhood became one of the longest and most transformative journeys I ever undertook. Compelled with a deep longing, a desire to birth a child, it became the force that kept inspiring me to enter into a portal of self-discovery. Transformative journeys are not meant to be taken alone. A plethora of mentors and loving companions both seen and unseen are essential to keep pace with the ever-changing landscape of change and metamorphosis that ensues.
A decade ago, I couldn't have imagined becoming a healer. But I knew deeply that it was my calling to touch and heal lives. My professional qualifications as a microbiologist and a scientist led me to be part of some amazing research, it was a dream for many to be in my spot. But I could see that these spaces lacked warmth — cutting edge research also meant competition in a way that wasn't too motivating. Often, I felt my morale drop and my passion watered down by the day.
There was a constant niggling in my heart, which I couldn't just pass. Somehow, I did not feel like I belonged there. Around the same time, my husband and I decided to have a family of our own. I found joy in my heart again and a faint sense of purpose in becoming a mother.
As luck would have had it, we found ourselves in a loop trying to figure out the reason for my inability to conceive a child. The reason did not show up and we were placed in the 'unexplained infertility' category, which simply meant the doctors had no understanding beyond what they knew.
Even though it was heart-breaking at the time, in hindsight I am thankful for that diagnosis – it could mean I was free to choose what I wanted to embrace. Those unexplained places later became the spiritual re-directs I needed for greater expansion of myself.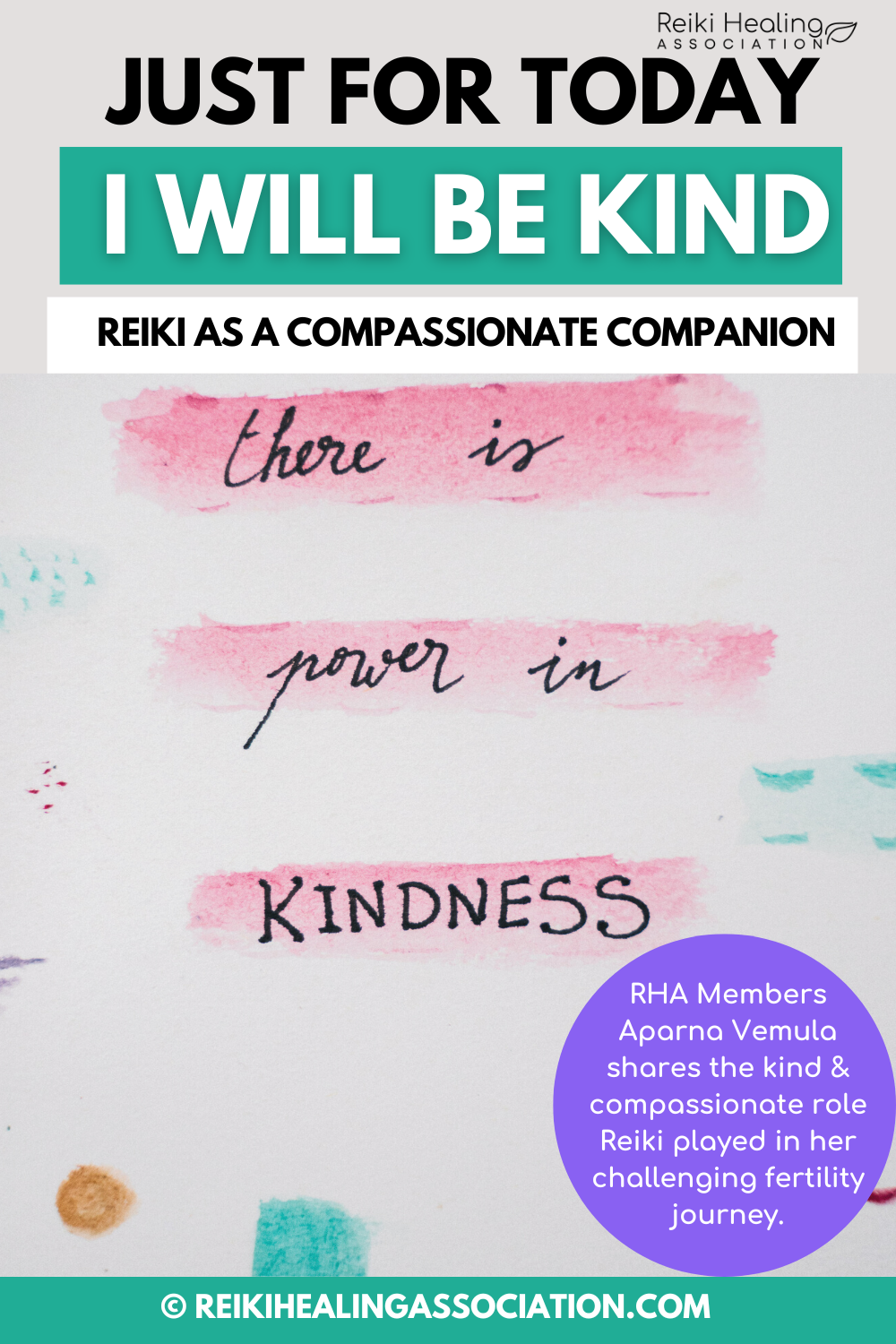 Pin this for later! Reiki as a Compassionate Companion – Just for today I will be Kind
The medical route was very clinical and often lacked empathy and understanding for an individual's pain. I felt like one of a flock being pushed toward more expensive and intensive procedures to fulfil this coveted dream. Often there was shame for a perceived defect and I found myself at the mercy of a system that wouldn't acknowledge the emotional, mental and energetic stress this path brings up. Infertility became a lonesome, isolating journey and the miscarriages I experienced landed me back to where I had started.
At this juncture, I was traveling to India and met a cousin who had recently certified to be a Reiki Practitioner. I did not know much about Reiki but was curious. She offered me a session and for the first time in many years, I experienced being enveloped by a blanket of kindness. I felt so lovingly held in the embrace of this compassionate energy, there was no judgment of who I was or what my imperfections were. It was as if I met a dear friend in Reiki — loving, considerate and compassionate. The experience touched me deeply and I found myself lighter and a sense of joy returned to my heart. I couldn't thank her enough for connecting me with this beautiful friend.
Once I returned home, I knew in my heart that I wanted to pursue this direction and soon enough I certified as an Intuitive Coach and then a Reiki Master. Being highly sensitive, working with energy felt like the most natural thing for me to do. Energy healing became a natural part of my process.
I aspired to become that gentle, trusting companion for others who were going through stressful journeys. Often, we are more alike than different as humans, in needing kindness and non-judgmental witnesses as we each navigate our paths. Instead of merely following the Reiki Principles I began to embody them.
In the meantime, I recognized my Reiki sessions were becoming a deeper healing experience for my clients. Loving ancestors, spirit babies, guides and other helpers of the spiritual realm would drop into the space to help.
I was also intuitively accessing psychic wisdom relayed by the deep body that often was confirmed by clients and this helped create transformative shifts for clients.
It felt like I was talking to all aspects of their being.
My role as space holder and a conduit for universal love is one that has been deeply fulfilling to me and allows me to touch the lives that I am meant to. In my coaching practice, Reiki has become an essential ingredient in my healing blend of tools that I use for myself and for others, all in favor of their greatest alignment.
The presence of inspiring mentors and having supportive communities of like-hearted individuals made all the difference to me as I navigated a challenging journey. I am grateful that I can offer that support and empathy to others without undermining their pain.
I believe that it is important to acknowledge the innate and wholesome Self residing within every individual and offer space for it to be expressed and fully received.
To me infertility and taking a step back from the medical route offered me a life changing opportunity to do deeper healing, to shift old beliefs that no longer served and to really see a purpose in the pain of this journey I was on. Having a caring community to fall back on for support and encouragement were invaluable in re-framing the experience and shifting perspectives a lot quicker than going at it alone.
Pin this for later! Just for today I will be grateful – Embracing Gratitude
Like this article? Share your thoughts in the comment box below!
And for more Reiki resources, be sure to connect with the Reiki Healing Association on Instagram, where we post daily Reiki inspiration and advice for healing and growth as a Reiki Practitioner or Reiki-enthusiast! And don't forget to follow us on Pinterest, where we are pinning positive affirmations and empowering quotes every single day.
Have you read the latest issue of Universal Life Magazine yet? As Members of the RHA you get Exclusive Access to the Magazine, and to access your copy all you need to do is log in to your Member's Area. You can get a copy of the magazine if you subscribe to our newsletter too!
More Articles For You